Robert Mugabe faces impeachment as deadline passes
Zimbabwe's ruling party had told him to resign by noon local time on Monday.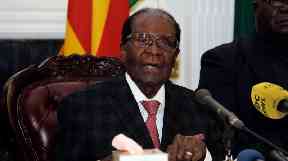 A deadline imposed by Zimbabwe's ruling party for Robert Mugabe to stand down or face impeachment has expired.
The defiant 93-year-old said in a televised statement on Sunday that he would preside over the ZANU-PF party conference in December, despite the party voting to sack him giving him 24 hours to resign.
The deadline of noon on Monday local time (10.00GMT) has now passed.
ZANU-PF's chief whip, Lovemore Matuke, confirmed impeachment would go ahead, the Associated Press reported.
"I don't see us failing to proceed with the impeachment," he was quoted as saying.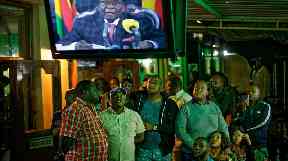 Zimbabwe's war veterans' association leader Chris Mutsvangwa said the military should step back and let the people, and politics, remove longtime President from power and warned of protests taking place.
Students have begun to gather at the University of Zimbabwe campus in Harare to call for the President and his Vice Chancellor Levi Nyagura to step down.
He told a press conference on Monday that Mr Mugabe should announce his departure immediately and let the country "start a new page".
"We are saying 'Mugabe, go now, go now," he said. "Your time is up."
"You should have the dignity and decency to spare the country of further turmoil by simply announcing your departure immediately."