Trump designates North Korea 'state sponsor of terrorism'
The US president says more sanctions will be imposed on the regime in Pyongyang.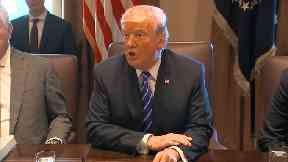 Donald Trump has said the US will designate North Korea as a state sponsor of terrorism and impose additional sanctions on the regime under a campaign of "maximum pressure".
The President said that the step "should have happened years ago" as he warned Pyongyang it must abandon its nuclear weapons development programme.
Mr Trump also cited the death of US student Otto Warmbier from injuries sustained while imprisoned by the North Korean regime as evidence of their brutality.
In addition to threatening the world by nuclear devastation, North Korea has repeatedly supported acts of international terrorism, including assassinations on foreign soil. As we take this action today our thoughts turn to Otto Warmbier, a wonderful young man, and the countless others so brutally affected by North Korean oppression. This designation will impose further sanctions on North Korea and related persons, and supports our maximum pressure campaign to isolate the murderous regime you have all been reading about.

Donald Trump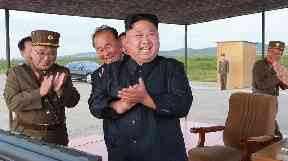 Mr Trump made the announcement after increasing tensions between the US and North Korean regimes which have seen both leaders threaten attacks.
North Korea was last on the US list of state sponsors of terror in 2008. The country was removed from the list as part of diplomatic efforts to salvage a deal to halt the state's nuclear weapons programme.
The designation had been debated for months inside the administration, with some officials at the State Department arguing that North Korea did not meet the legal standard to be relisted as a state sponsor of terrorism.
US officials said the killing of North Korean leader Kim Jong Un's estranged half brother in a Malaysian airport earlier this year was clearly an act of terrorism.
However, lawyers said there had to be more than one incident, and there was disagreement over whether the treatment of Mr Warmbier amounted to terrorism.