Robert Mugabe must go now, says Emmerson Mnangagwa
The statement by the ousted vice-president adds to pressure on Zimbabwean leader.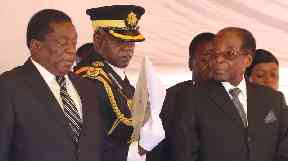 Zimbabwean president Robert Mugabe should acknowledge the nation's "insatiable desire" for a leadership change and resign immediately, the recently fired vice president said as impeachment proceedings were set to begin.
The statement by Emmerson Mnangagwa, who was dismissed earlier this month, added to immense pressure on Mr Mugabe to resign.
The 93-year-old has been in power for nearly four decades, during which he evolved from a champion of the fight against white minority rule into a figure blamed for a collapsing economy, government dysfunction and human rights violations.
The ruling ZANU-PF party is poised to begin impeachment proceedings against Mr Mugabe after its Central Committee voted to oust the president as party leader and select Mr Mnangagwa as his replacement, a move that eventually could allow the former vice president to become head of state.
Mr Mnangagwa served for decades as Mr Mugabe's enforcer, with a reputation for being astute and ruthless.
"The people of Zimbabwe have spoken with one voice and it is my appeal to President Mugabe that he should take heed of this clarion call and resign forthwith so that the country can move forward and preserve his legacy," Mr Mnangagwa said.
Mr Mnangagwa, who fled the country and has not appeared in public during the past week's political turmoil, said Mr Mugabe had invited him to return to Zimbabwe "for a discussion" on recent events.
However, he said he will not return for now, alleging that there had been plans to kill him at the time of his firing.
"I will be returning as soon as the right conditions for security and stability prevail," said Mr Mnangagwa, who has a loyal support base in the military.
"Never should the nation be held at ransom by one person ever again, whose desire is to die in office at whatever cost to the nation."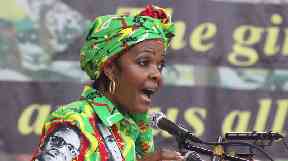 Zimbabwe's polarising first lady, Grace Mugabe, had been positioning herself to succeed her husband, leading a party faction that engineered Mr Mnangagwa's removal.
The prospect of a dynastic succession alarmed the military, which confined Mr Mugabe to his home last week and targeted what it called "criminals" around him who were allegedly looting state resources - a reference to associates of the first lady.
Mr Mnangagwa was targeted by US sanctions in the early 2000s for undermining democratic development in Zimbabwe, according to the Atlantic Council, a US-based policy institute.
However, J Peter Pham, an Africa expert at the council, noted that some Zimbabwean opposition figures have appeared willing to have dialogue with Mr Mnangagwa in order to move the country forward and that the international community should consider doing the same.
"We're not saying whitewash the past, but it is in the interests of everyone that Zimbabwe is engaged at this critical time," Mr Pham said in a statement.
Impeachment proceedings were expected to start with the resumption of parliament on Tuesday, days after huge crowds surged through the capital, Harare, to demand that Mr Mugabe quit.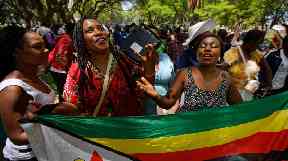 The ruling party instructed government ministers to boycott a Cabinet meeting that Mr Mugabe called for Tuesday morning at State House, the president's official residence.
Ruling party chief whip Lovemore Matuke said ministers were told to instead attend a meeting at party headquarters to work on the impeachment.
The ruling party says the charges for impeachment include that Mr Mugabe "allowed his wife to usurp constitutional power" and that he is "of advanced age" and no longer has the physical capacity to run the government.
It was not clear how long the impeachment process could take. The ruling party has said Mr Mugabe could be voted out as early as Wednesday but some analysts believe the impeachment process could take weeks and would, if conducted properly, allow Mr Mugabe to make a case in his defence.
Mr Mnangagwa said he was aware of the move to impeach Mr Mugabe.
Though unpopular in some parts of Zimbabwe, the former vice president called for unity and appeared to embrace the prospect of taking over power.
"I will not stand in the way of the people and my party," he said.