Jeffrey Tambor accused of sexual harassment by third woman
The actor said he did not remember the details of the latest allegation.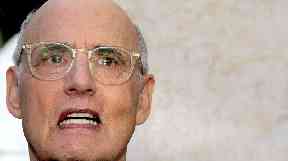 A third woman has accused Jeffrey Tambor of sexual harassment, claiming the actor forcibly kissed her on the set of a 2001 film.
Tambor, 73, said he was considering quitting the hit show Transparent after misconduct allegations were made by a former assistant and his co-star Trace Lysette.
The actor said he did not remember the latest allegation, but apologised for "inadvertently" causing discomfort.
Speaking to the website Refinery29, a makeup artist, who requested anonymity, said she had not interacted with Tambor during filming.
"It wasn't like he and I had bantered back and forth or flirted," she said. But Tambor allegedly made a sudden advance on the last day of filming the movie Never Again.
"I said [to Tambor], 'It was very nice to work with you' and he grabbed me out of nowhere and kissed me on the lips," she claimed.
"And I was just shocked. I didn't even know how to react, because how do you react when you're not expecting anything like that? So I didn't know if I was embarrassed or shocked or mortified or stunned. It was a whole bunch of emotions."
Tambor said he had "absolutely no recollection of anything like this incident ever happening."
"If it did, it wasn't meant as anything more than an enthusiastic farewell and gratitude for a job well done at the end of a shoot," he added.
"However, I am deeply sorry for any discomfort or offence I may have inadvertently caused her."
Last week, Lysette accused Tambor of making sexual remarks during filming and thrusting himself against her.
In response, Tambor said he might quit the show "given the politicised atmosphere that seems to have afflicted our set."