Ireland's deputy PM facing vote of no confidence 
Ireland is now facing the prospect of a winter general election.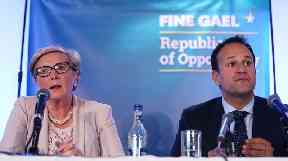 Ireland is facing the prospect of a winter general election after the deputy prime minister was threatened with votes of no confidence from rival parties.
The Fine Gael minority government is currently being held up by a confidence and supply arrangement with the main opposition party Fianna Fail.
But the deputy prime minister - or Tanaiste - Frances Fitzgerald, is facing calls to quit from Fianna Fail and Sinn Fein over a controversy involving a bid to discredit a Garda whistleblower.
The two rival parties have separately threatened no confidence votes against her in the Dail parliament, but her fellow Fine Gael ministers have rallied to her defence.
Prime minister - or Taoiseach - Leo Varadkar claimed Ms Fitzgerald was facing a "trumped up charge" put by political rivals.
If the Tanaiste remains in post next week and Fianna Fail follows through with its threat, its confidence and supply deal with Fine Gael would have been breached and the country would be faced with a winter general election.
In the Dail on Thursday, Ms Fitzgerald rejected allegations she was privy to the conspiracy aimed at discrediting the whistleblower Sergeant Maurice McCabe during an inquiry into his claims of bad policing.
Ms Fitzgerald said: "I am trying to provide answers. I am not trying to hide anything. I was not part of any conspiracy to undermine Sergeant McCabe. Quite the contrary."
This week a Government email emerged indicating the Tanaiste was told in 2015 about the tactics being used by Garda lawyers at an inquiry examining allegations of malpractice.
The note, written by the assistant secretary of the Department of Justice, alerted Ms Fitzgerald, then justice minister, that "a serious criminal complaint" which had always been denied by Sgt McCabe, was raised at the commission.
Last year it emerged the legal team appointed by the former Garda commissioner was instructed to question Sgt McCabe's motivation and credibility during the inquiry.