Trump uses 'racial slur' during Native American event
The US president was attacking Senator Elizabeth Warren, who he calls 'Pocahontas'.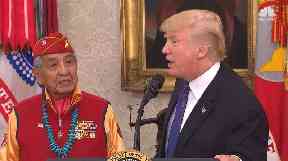 Donald Trump used a "racial slur" during an event at the White House to honour Native American veterans on Monday.
After welcoming three Navajo code talkers from the Second World War, Trump hit out at Democratic senator Elizabeth Warren, whom he has long derided as "Pocahontas."
After calling the veterans "very special people," Trump said: "We have a representative in Congress who they say was here a long time ago. They call her Pocahontas. But you know what, I like you."
The president has repeatedly mocked Warren, a senator from Massachusetts, about her claims to be part Native American.
Native American leaders have in the past called Trump's attacks on Warren offensive.
The senator immediately denounced Trump's comments.
"This was supposed to be an event to honour heroes, people who put it all on the line for our country, who, because of their incredible work, saved the lives of countless Americans and our allies," she said.
"It is deeply unfortunate that the president of the United States cannot even make it through a ceremony honouring these heroes without having to throw out a racial slur."
The president, a longtime nemesis of Warren, has repeatedly seized on questions around her heritage, which surfaced during her 2012 Senate race against Republican Senator Scott Brown.
During that campaign, it was revealed Warren was on the association's list of "minority law teachers" when she was teaching at the University of Texas and the University of Pennsylvania.
Warren said she listed herself with Native American heritage because she hoped to meet people with similar roots.
In a 2012 interview with The Associated Press, Warren, a possible 2020 presidential candidate, said she and her brothers were told of the family's heritage by their parents and she never sought proof of ancestry because she did not think it was necessary.