Pope urges Myanmar to work towards peaceful future
The pontiff failed to refer to the plight of Rohingya Muslims during his speech.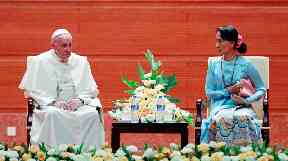 Pope Francis urged Myanmar to work towards peace and "respect for the dignity and rights of each member of society" but failed to directly refer to the plight of Rohingya Muslims.
Speaking in Naypyidaw alongside Myanmar leader Aung San Suu Kyi, he acknowledged that the country is "suffering from civil conflict and hostilities" that have "lasted all too long and created deep divisions".
However, after some papal advisers warned against referring to Rohingya, he did not mention them by name.
"The future of Myanmar must be peace," he said. "A peace based on respect for the dignity and rights of each member of society, respect for each ethnic group and its identity, respect for the rule of law, and respect for a democratic order that enables each individual and every group - none excluded - to offer its legitimate contribution to the common good."
He added: "The arduous process of peace building and national reconciliation can only advance through a commitment to justice and respect for human rights."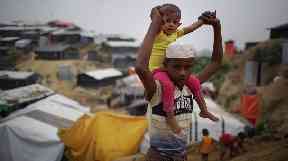 More than 620,000 Rohingya have left northern Rakhine over the past three months to escape a military crackdown described by Amnesty International as "crimes against humanity".
The United Nations and others have said the military's actions appeared to be a campaign of "ethnic cleansing."
Many, including thousands of children, have escaped to neighbouring Bangladesh due to persecution from the Burmese military in their native state of Rakhine.
The Pope had been warned against saying the word 'Rohingya' in case it set off a diplomatic incident that could turn the country's military and government against minority Christians, Reuters reported.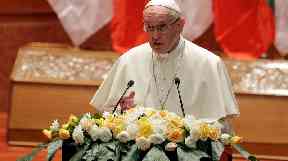 Burmese leader Aung San Suu Kyi, who has been criticised for failing to condemn the violence, also failed to mention Rohingya refugees.
Myanmar does not recognise the Rohingya as citizens nor as a distinct ethnic group and it rejects the term 'Rohingya' and its use.
Suu Kyi, a Nobel peace laureate who for years faced down the junta that long ruled her country, has faced condemnation from around the globe for expressing doubts about reports of abuses.
She said: "Of the many challenges that our government has been facing, the situation in the Rakhine has most strongly captured the attention of the world."
She said that Myanmar would address "long-standing issues" that have eroded trust and understanding, harmony and cooperation, between different communities in Rakhine."
The UN has described the treatment of Rohingya Muslims in Myanmar as a "textbook case of ethnic cleansing", with evidence of mass murder and rape as dozens of villages were burned down by the Myanmar military.
The violence began after clashes between insurgents and security forces in August, with more than half a million people believed to have subsequently escaped across the border.