War criminal Slobodan Praljak dies 'after taking poison'
Slobodan Praljak has died after judges upheld his 20-year prison sentence, Croatian state TV said.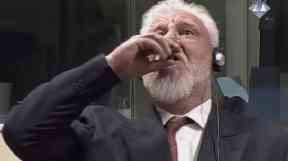 War criminal Slobodan Praljak has died after "drinking poison" as judges upheld his 20-year prison sentence at the Hague, according to Croatian state TV.
Judges suspended the hearing after the 72-year-old wartime commander of Bosnian Croat forces tilted back his head and drank from a small flask after shouting "I am not a war criminal" as his sentence was upheld.
The dramatic incident happened during an appeal hearing at the International Criminal Tribunal for the former Yugoslavia (ICTY).
Praljak was convicted for involvement in a campaign to drive Muslims out of a would-be Bosnian Croat ministate in Bosnia in the early 1990s.
After he drank the liquid a doctor was called for and an ambulance later seen arriving at the Hague.
Officials said he was "receiving medical treatment" but Croatian state TV later reported that Praljak had died.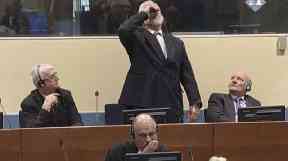 The incident took place during the last judgement by the ICTY, established by the United Nations in 1993, to deal with crimes during the 1992-95 war.
Praljak had been convicted of being involved in a campaign by Croat forces to persecute Bosnian Muslims to carve out a Croat ministate.
He and six other Bosnian Croat political and military leaders had appealed against their 2013 convictions for involvement in the crimes.
It came a week after Bosnian Serb army commander Ratko Mladic was ejected from the courtroom after he was sentenced to life in prison for genocide.
The Tribunal was set up in 1993, while fighting still raged in the former Yugoslavia, and has indicted 161 suspects for war crimes and convicted 90 individuals.
The groundbreaking ICTY is to finally close next month.