Nikki Haley: North Korea test brings US 'closer to war'
Pyongyang tested an ICBM capable of hitting any city on the US mainland on Tuesday.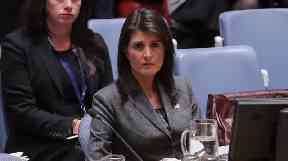 US ambassador Nikki Haley has told the United Nations that North Korea's latest missile test has brought the world "closer to war."
In an emergency session of the Security Council on Wednesday, Haley repeated Donald Trump's warning that the regime would be "destroyed" should war break out, and called on all member to increase sanctions on the hermetic state.
"If war comes, make no mistake, the North Korean regime will be utterly destroyed," Haley said.
"The dictator of North Korea made a decision yesterday that brings us closer to war, not farther from it. We have never sought war with North Korea and still today we do not seek it."
Tuesday's test, Pyongyang's first intercontinental ballistic missile, flew far higher than its predecessors, and was deemed capable of hitting the US mainland by western analysts.
Trump pledged on Wednesday to impose "additional major sanctions" on North Korea, saying the "situation will be handled."
At a meeting in Missouri to promote his tax cuts policy on Wednesday, Trump called North Korea's leader Kim Jong Un "a sick puppy."
North Korea's test came after a two-and-a-half month pause in its rapidly developing missile programme. The regime said it had launched a "significantly more" powerful, nuclear-capable intercontinental ballistic missile, a claim confirmed by other governments.
Trump has vowed to stop North Korea obtaining the capability to strike US mainland cities, using military force if necessary.
After Trump spoke to China's president on Wednesday, the White House released a statement saying the president made clear to his counterpart "the determination of the United States to defend ourselves and our allies".
China's state-run Xinhua news agency said President Xi told Trump that denuclearising the Korean peninsula, maintaining international nuclear-nonproliferation regime and preserving peace and stability in north-east Asia are China's unswerving goal.