Argentina ends rescue mission for missing submarine
Argentina said that the search for the San Juan is no longer a rescue mission.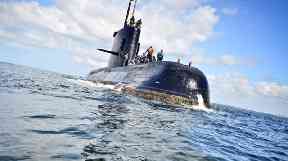 Argentina has ended the rescue mission for a submarine which has gone missing with 44 crew members on board.
The South American country's navy said that the search for the submarine which has been missing for 15 days will continue, but it is no longer being treated as a rescue mission.
The decision to end the rescue mission comes after the Argentine navy said that a sound thought to be an explosion had been detected by US and specialist agencies leading the search.
The "hydro-acoustic anomaly" was produced just hours after the navy lost contact with the ARA San Juan on November 15, said Enrique Balbi, a navy spokesperson.
Prior to the rescue mission being called off, hopes of survivors had already begun to fade after experts said the crew only had enough oxygen to last up to 10 days if the submarine remained intact under the sea.
More than a dozen countries have taken part in the search to find the San Juan, with a fleet of international vessels and aircraft taking part, including the RAF Voyager, the first British military aircraft to land in Argentina since the Falklands War.