Hawaii conducts siren test amid North Korea attack fears
The US state is the first to test the warning since end of the Cold War amid nuclear attack fears.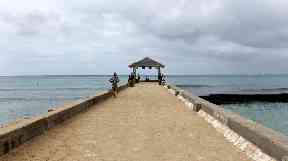 Hawaii has conducted its first test of a siren to warn the public of a possible nuclear attack from North Korea.
The US state is the first to test a Cold War era nuclear warning system since the end of the Cold War.
The siren sounded for a minute on Friday after the usual testing of a system to alert people to natural disasters.
The move comes in the same week North Korea fired a powerful nuclear-capable intercontinental ballistic missile that some observers believe could reach the US mainland.
Hawaii governor David Ige said the possibility of a strike is remote but that people have to be prepared.
Officials delayed testing by a month to ensure residents and visitors were informed.
Some still expressed confusion this week about what they were supposed to do after hearing the attack siren.