'Worst in history': Trump attacks FBI in series of tweets
US president responded to reports an agent was removed from probe into Russian election meddling.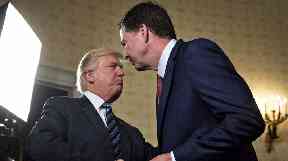 US President Donald Trump has attacked his own FBI in a series of tweets, saying the law enforcement agency's reputation is "in Tatters - worst in History!".
The president promised that "we will bring it back to greatness".
Mr Trump was responding to reports that a veteran FBI counterintelligence agent was removed from special counsel Robert Mueller's team investigating Russian election meddling because of anti-Trump text messages.
He wrote after years under fired FBI director James Comey, "with the phony and dishonest Clinton investigation (and more)," the agency's reputation "is in Tatters - worst in History!".
The president also retweeted a tweet suggesting FBI Director Chris Wray "needs to clean house".
Earlier on Sunday Mr Trump stated he never asked Mr Comey to stop investigating ex-national security adviser Michael Flynn.
The series of tweets come a day after Mr Trump insisted that he has "nothing to hide" over alleged links between his campaign and Russia intended to influence the 2016 presidential race.
In another tweet, he said he "had to fire" Mr Flynn because he was aware he had lied to the FBI, but insisted his aide's actions were "lawful".
The statement could open up Mr Trump to questions about exactly when he became aware that Mr Flynn had misled officials.
He also continued to insist there was "no collusion" between his election team and Moscow in earlier remarks to reporters.