Trump: US recognises Jerusalem as Israel's capital
US president confirms he will move diplomatic operations from Tel Aviv to Jerusalem.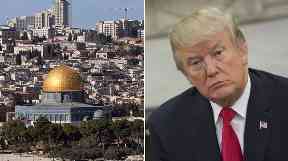 Donald Trump has announced the US will be the first country to recognise Jerusalem as Israel's capital, defying warnings the decision could increase tension in the region.
In a speech in Washington DC, Mr Trump said: "I have determined that it is time to official recognise Jerusalem as the capital of Israel."
Mr Trump confirmed his oft-repeated campaign promise to move the US embassy from Tel Aviv to Jerusalem in his speech on Wednesday.
The move is expected to provoked condemnation from world leaders with many fearing the president's decision could derail the fragile Middle East peace process.
Mr Trump's plan also undermines the US's role as a mediator in Israel-Palestine negotiations.
But Israeli Prime Minister Benjamin Netanyahu described the recognition of Jerusalem as Israel's capital as an "historic day" and an "important step towards peace".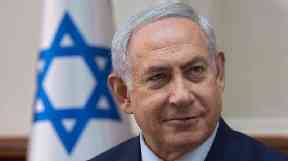 President Trump's announcement breaks from Washington's carefully maintained position of neutrality over the status of Jerusalem. US administrations have, until now, asserted that the city's ultimate fate must be determined through Israeli-Palestinian negotiation.
The US president insisted his decision was the "right thing to do" and a "long overdue step to advance the peace process," stressing the US was not taking a position on specific boundaries or the resolution of contested borders.
He said he intends "to do everything" in his power to help forge a peace deal between Israelis and Palestinians and was "prepared to back a two-state solution."
UN Secretary-General Antonio Guterres warned "in this moment of great anxiety, I want to make it clear: there is no alternative to the two-state solution. There is no Plan B."
Mr Trump insisted American policy of the last two decades was doing nothing to advance peace in the region.
"For over 20 years every previous American presidents has exercised the laws waiver refusing to move the US embassy to Jerusalem or to recognise Jerusalem as Israel's capital city.
"After more than two decades of waivers we're no closer to a lasting peace agreement between Israeli and the Palestine it would be folly to assume that repeating the exact same formula would now produce a different or better result.
"While previous presidents have made this a major campaign promise, they failed to deliver. Today, I am delivering. I've judged this cause of action to be in the best interests of the united states of america and the pursuit of peace between Israeli and the Palestinians."
The ancient city of Jerusalem lies at the heart of the Israeli-Palestinian conflict.
Israel captured East Jerusalem - home to important Jewish, Christian and Islamic shrines - in the 1967 Middle East War and later annexed it - a move that is not recognised internationally.
Israel has always regarded Jerusalem as its capital, but Palestine wants the East Jerusalem - home to some 400,000 Palestinians - to be the capital of a future independent Palestine state.