Iran state TV airs pro-government rallies after unrest
Deadly protests began on December 28 over weak economy and rise in food prices.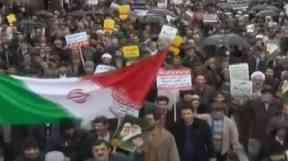 State media in Iran aired pro-government demonstrations in cities across the country after a week of deadly protests and unrest over the nation's poor economy.
The English-language broadcaster Press TV broadcast showed the rallies live in an apparent bid to calm nerves amid clashes that have killed 21 people.
According the state broadcaster, the demonstrations took place in at least 10 cities and saw Iranians waving flags and signs supporting the country's clerically overseen government.
The rallies come after Iran's Supreme Leader Ayatollah Ali Khamenei blamed the biggest civil unrest in the country since 2009 on meddling by "enemies of Iran."
The protests began on 28 December in Iran's second-largest city Mashhad, over the weak economy and a rise in food prices.
Hundreds have since been arrested, including 450 in the capital Tehran.
A prominent judge has warned that some could face the death penalty.
State TV reported that six rioters had been killed on Monday night during an attack on a police station in the town of Qahdarijan when they tried to steal guns from the facility.
In the town of Khomeinishahr, an 11-year-old boy and a 20-year-old man were killed, state TV said.
A member of Iran's paramilitary Revolutionary Guard was also reported killed in the town of Najafabad.
Iran's semi-official Mehr news agency reported a gunman had killed a policeman and wounded three other officers during a protest in the same location.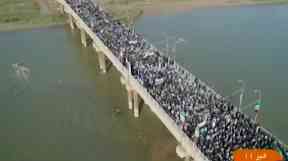 Iran's government has since shut down access to Telegram and Instagram, which now join Facebook and Twitter in being banned, in an attempt to slow the unrest.
Donald Trump's administration called on Iran's government to stop blocking Instagram and other popular social media sites. US Undersecretary of State Steve Goldstein said Instagram, Telegram and other platforms are "legitimate avenues for communication."
Turkish officials say Iran's President Hassan Rouhani told his Turkish counterpart Recep Tayyip Erdogan that he hopes the protests "will end in a couple of days."
Officials in Erdogan's office say the two had a telephone conversation on Wednesday during which Erdogan stressed the importance of stability and calm.