US and South Korea to delay joint military training
The Asian nation is hosting the Winter Olympics from February 9 in Pyeongchang.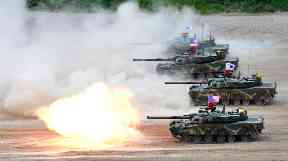 President Donald Trump and his South Korean counterpart Moon Jae-in have agreed to delay joint military exercises until after the Winter Olympics, the Pentagon has said.
Each year between February and April, South Korea and the United States hold a set of military exercises known as Foal Eagle, designed to test the readiness of the two countries' militaries.
Pentagon spokesperson Colonel Rob Manning said in a statement: "The Department of Defense supports the president's decision and what is in the best interest of the ROK[South Korea}-US alliance," referring to the defence treaty between the US and the Republic of Korea, the official name for South Korea.
The Winter Olympics begin on February 9 in Pyeongchang, South Korea.