'Bomb cyclone' storm sweeps into US northeastern coast
Winter weather emergencies have been declared amid heavy snowfall and high winds.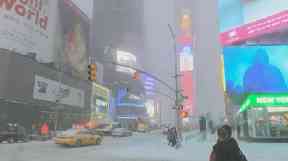 A snow storm "bomb cyclone" has struck northeastern America sparking winter weather emergencies along the coast.
New York City Mayor Bill de Blasio warned there would be blizzards and near whiteout conditions in the next 24 hours.
Many schools are closed and residents have been warned their cars will be towed if they block the path needed for snow ploughs.
Record-breaking cold could be felt across a huge swath of the northeastern coast where up to 18 inches of snow could fall in some areas.
Speaking at the NYC Emergency Management headquarters in Brooklyn, the mayor announced that 1,500 snow plows and 693 salt spreaders had been deployed on the city's streets.
After thanking the emergency teams, he added: "I want to emphasise, this is a very serious storm. Between the very low temperatures, the strong winds, the driving snow, everyone should take this one very seriously and take precautions."
More than a foot of snow was also forecast for Boston and coastal areas in northern New England.
The storm is the product of a rapid plunge in pressure that some weather forecasters are referring to as a "bomb cyclone", which brings fast heavy snowfall and high winds.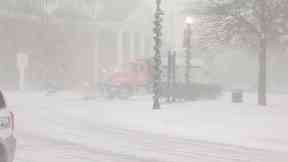 More than 3,000 airline flights within, into or out of the United States were canceled ahead of the storm's arrival on Thursday, according to tracking service FlightAware.com.
Governor Andrew M Cuomo of New York also declared a state of emergency for the southern part of the state, including Westchester County, New York City and Long Island.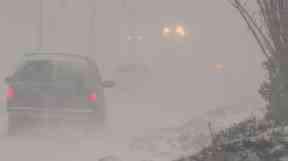 And blizzard warnings were in effect in Delaware, Maine, Maryland, Massachusetts, New Jersey, Rhode Island and Virginia.
Areas around Boston were forecast to see about one foot (30 cm) of snow on Thursday, and the National Weather Service predicted a similar amount and wind gusts of up to 55 mph (90 kmph) in New York City.