Donald Trump 'like a child', says Fire and Fury author
Michael Wolff claims everyone around the president 'questions his fitness for office'.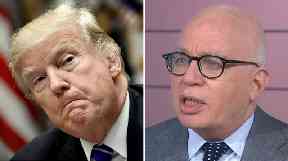 The author of an explosive new book on Donald Trump has said the US president has "less credibility than perhaps anyone who has ever walked the earth" and his staff describe him as "like a child".
Michael Wolff shrugged off the president's anger at the publication of the Fire and Fury: Inside the Trump White House, telling NBC's Today show that "100%" of people around Mr Trump questioned the president's intelligence and "fitness for office".
Fire and Fury paints an unflattering picture of Mr Trump, with Mr Wolff portraying him as an undisciplined man-child who does not understand the weight of the presidency and spends his evenings eating cheeseburgers in bed, watching television and talking on the phone to old friends.
Mr Wolff said of Mr Trump: "This man does not read. Does not listen. He's like a pinball, just shooting off the sides."
In the book, former chief strategist Steve Bannon is quoted as describing a June 2016 meeting at Trump Tower between Donald Trump Jr, Trump campaign aides and a Russian lawyer as "treasonous" and "unpatriotic", and also questions his fitness for office.
Mr Trump is said to be furious at Bannon's criticisms, claiming he had given Mr Wolff "zero access" and his book was "full of lies."
In a tweet on Thursday, Mr Trump said: "I authorized Zero access to White House (actually turned him down many times) for author of phony book! I never spoke to him for book. Full of lies, misrepresentations and sources that don't exist. Look at this guy's past and watch what happens to him and Sloppy Steve!"
White House press secretary, Sarah Sanders dismissed Fire and Fury as "trashy tabloid fiction".
But Mr Wolff stood by his book and dismissed the White House's claims.
He said: "I absolutely spoke to the president. My window into Donald Trump is pretty significant.
"I work like every journalist works. I have recordings. I have notes. I am certainly and absolutely in every way comfortable with what I have reported."
The book was published on Friday at 9am local time in the US despite Mr Trump's lawyers sending a "cease and desist" threatening legal actor to Mr Wolff and the publisher Henry Holt & Co.
Mr Wolff said the president's reaction has worked in his favour. "Not only is he helping me sell books, he's helping me prove the point of the book. This is extraordinary that a president of the United States would try to stop the publication of a book.
"This has not happened from other presidents would not even happen from a CEO of a mid-size company."