US east coast hit with sub-zero wind chill hitting -34C
Vermont, New York and Philadelphia battling extreme low temperatures.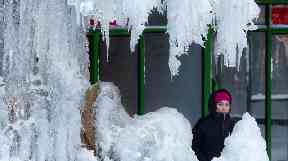 Brutally cold conditions are still enveloping the US east coast, with wind chill warnings from Virginia to Vermont.
In Burlington, Vermont, people battled temperatures of minus 18C and a wind chill of minus 34C.
Both Philadelphia and New York were shivering at -13C, with wind chills of minus 23C in Philadelphia and minus 22C in New York.
And in Hartford, Connecticut, a brutal cold of minus 12 degrees yielded a wind chill of minus 28C. The coldest record for Hartford, minus 12 degrees, was set in 1912.
Earlier this month, record-breaking freezing temperatures claimed several lives in the South.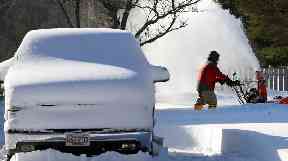 The cold conditions, which comes just days after a storm dumped as much as 18 inches of snow in some areas, are expected to last most of the weekend.
On Monday, temperatures are expected to rise above freezing, the first time since last month.
"It's definitely cold and the type of bone-chilling cold that happens every few years," said Dan Hofmann, a meteorologist with the National Weather Service in Baltimore.
He said that the last time such extreme cold occurred was in February 2015.
The weather service issued wind chill warnings for various days this weekend for parts of Vermont, New York, Virginia, West Virginia, Maryland, Maine and New Hampshire.