More than 30 people missing after China oil tanker blaze
The Iranian oil tanker collided with a bulk freighter and caught fire off China.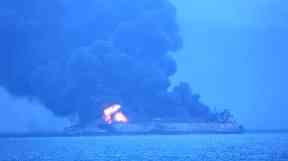 Over 30 crew members of an Iranian tanker are missing after a fire broke out on board following a collision with a bulk freighter.
A search operation has been launched off the eastern coast of China for the 30 Iranians and two Bangladeshis who remain unaccounted for following the blaze.
The 21 members of the Crystal's crew, all Chinese nationals, were rescued, China's Ministry of Transport said.
Police vessels have been dispatched by Chinese maritime authorities along with three cleaning ships to the scene.
The South Korean coast guard have also sent a ship and an aeroplane to aid the search effort.
The Panama-registered tanker Sanchi was sailing from Iran to South Korea when it collided with the Hong Kong-registered freighter CF Crystal 160 miles from shore late on Saturday, the Ministry of Transport said.
It was not immediately clear what caused the collision.