North Korea will send delegation to Winter Olympics
The agenda for the meeting includes co-operation at next month's Winter Olympics.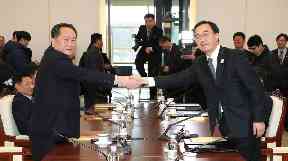 North Korea athletes will compete in the upcoming Winter Games in South Korea, according to officials in Seoul, after the two nations held high-level talks for the first time in more than two years.
Chun Hae-sung, South Korea's vice unification minister, said the North made the agreement during the meeting on Tuesday at the border village of Panmunjom in the Demilitarised Zone that splits the Peninsula.
The North Korean delegation would include officials, athletes, cheerleaders and journalists, he said.
Chun said South Korea proposed the the countries conduct a joint march during the Game's opening and closing ceremonies.
The meeting was held amid heightened tensions over Pyongyang's nuclear missile tests.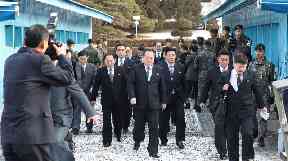 North Korean leader Kim Jong Un used his New Year's Day address to suggest he was willing to send a delegation to the Games.
South Korean President Moon Jae-in welcomed Kim's overture and proposed talks.
Critics claim Kim may be trying to divide Seoul and Washington in a bid to weaken international pressure and sanctions.
The last talks between the rival states was held in December 2015. Formal relations were ended soon after after Seoul suspended the joint economic project at the Kaesong Industrial complex following a missile test by Pyongyang.
North Korea retaliated by cutting all ties, including the hotline between the governments.