At least 13 dead after mudslides hit California
The rain sent mud and boulders roaring down hills stripped of vegetation by wildfire.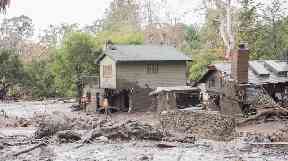 At least 13 people have died after flash flooding caused mudslides in Southern California on Tuesday.
The rain sent mud and boulders roaring down hills stripped of vegetation by a gigantic wildfire that ravaged the state in December.
Helicopters were forced to rescued survivors from rooftops after trees and power lines blocked roads.
In Montecito, firefighters pulled a mud-caked 14-year-old girl from a collapsed home where she had been trapped for hours.
"I thought I was dead for a minute there," the girl told KNBC-TV before she was taken away on a stretcher.
More deaths are epected in Montecito, a wealthy enclave of about 9,000 people northwest of Los Angeles, Santa Barbara County spokesman David Villalobos said.
Some 25 people were injured and others remain unaccounted for.
The mudslides hit in the middle of the night after a flash flood in the steep, fire-scarred Santa Ynez Mountains.
Burned-over zones are especially susceptible to destructive mudslides because scorched earth does not absorb water well and the land is easily eroded when there are no shrubs.
The torrent of mud swept away cars and destroyed several homes, with pictures posted on social media showing waist-deep debris in living rooms.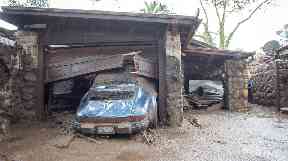 "I came around the house and heard a deep rumbling, an ominous sound I knew was ... boulders moving as the mud was rising," said Thomas Tighe, who discovered two of his cars missing from the driveway in the middle of the night."
"I saw two other vehicles moving slowly sideways down the middle of the street in a river of mud."
In daylight, Tighe was shocked to see a body pinned by muck against his neighbour's home.
Authorities, bracing for the possibility of catastrophic flooding because of the heavy rain forecast, had ordered evacuations beneath the recently burned areas of Santa Barbara, Ventura and Los Angeles counties.
But only an estimated 10 to 15% of people in a mandatory evacuation area of Santa Barbara County heeded the warning, authorities said.
The worst of the rainfall occurred in a 15-minute span starting at 3:30am. Montecito got more than a half-inch in five minutes, while Carpinteria received nearly an inch in 15 minutes.
Montecito is beneath the scar left by a wildfire that erupted Dec#ember 4 and became the largest ever recorded in California.
It spread over more than 440 square miles and destroyed 1,063 homes and other structures. It continues to smoulder deep in the wilderness.
The storm walloped much of the state with damaging winds and thunderstorms.
Downtown San Francisco got a record 3.15 inches of rain on Monday, smashing the old mark of 2.36 inches set in 1872.