California mudslides death toll rises, eight missing
Rescue crews searched for survivors on Thursday following the disaster.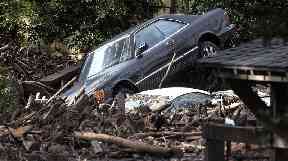 At least 17 people have died as a result of Tuesday's mudslides in California, while eight remain missing, officials have said.
Rescue crews searched for survivors on Thursday following the disaster that flattened homes and swept away cars.
Teams rescued three people, but they also discovered two more bodies, raising the death count on Wednesday, Santa Barbara County Sheriff Bill Brown said. Thirteen people remain missing.
The disaster destroyed 100 houses and damaged 300 others, Santa Barbara County authorities said. Eight commercial properties were destroyed and 20 damaged.
Some 500 firefighters and other rescue workers were searching debris spread across a wide area of Montecito, a wealthy area of about 9,000 people northwest of Los Angeles.
Helicopters were used to hoist more than 50 people to safety from roofs, where they scrambled to escape the mud or because debris had blocked roads and left them stranded.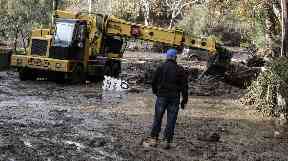 "It's just waiting and not knowing, and the more I haven't heard from them - we have to find them," said Kelly Weimer, whose elderly parents' home was wrecked by the torrent of mud in a coastal town in Santa Barbara.
The storm that triggered the mudslides gave way to sunny skies, allowing rescuers to comb the battered landscape.
"We've got multiple reports of rescuers falling through manholes that were covered with mud, swimming pools that were covered up with mud," said Anthony Buzzerio, a Los Angeles County fire battalion chief.
"The mud is acting like a candy shell on ice cream. It's crusty on top but soft underneath, so we're having to be very careful."
People in Montecito avoided the ravages of the biggest wildfire in California history last month. But it was the fire that led to the mudslide, by burning away vegetation.
Only an estimated 10 to 15% of residents fled when ordered and much of the damage occurred where evacuations were voluntary.