Trump 'in excellent health' says White House doctor
President's medical check "went exceptionally well" amid rumours over fitness for office.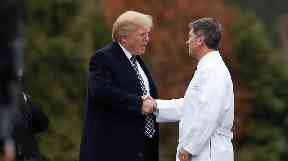 Donald Trump is "in excellent health" according to the doctor who carried out his first medical check-up since taking on the presidency.
The US leader underwent a routine physical test on Friday amid growing questions over his mental health and fitness for office.
In a short statement, White House physician Dr Ronny Jackson said the session at at Walter Reed military hospital "went exceptionally well."
Full details of the results will be released on Tuesday.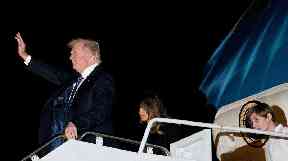 Though the examination is routine, its results have been unusually closely watched after claims that that the 71-year-old president may be mentally unfit for office.
Mr Trump is the oldest ever person to be elected for a first term as president, though Ronald Reagan was the oldest ever in office at age 77 by the end of his second term.
Aides have allegedly expressed concern that Mr Trump has a short attention span and regularly repeats himself, while there have also been claims that he has slurred his words and forgotten the national anthem.
Rumours were further stoked by the explosive book Fire and Fury by Michael Wolff, who wrote in the Hollywood Reporter: "At Mar-a-Lago, just before the new year, a heavily made-up Trump failed to recognise a succession of old friends."
Mr Trump has hit back at the allegations, saying that he is a "stable genius" in a series of tweets responding to the book.
Friday's physical examination lasted several hours and measured things like Trump's blood pressure, cholesterol, blood sugar, heart rate and weight. The White House did not provide specific results of those tests.
Dr Jackson, who also provided care for President Barack Obama and became a White House physician in 2006, is expected to provide a detailed readout of the exam on Tuesday and answer questions from reporters.