At least five killed in attack on Kabul military academy
An Islamic State suicide bomber attacked guards followed by a gun battle.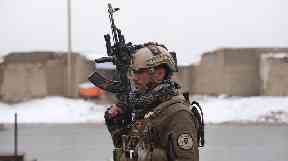 At least five soldiers have been killed after Islamic State militants attacked a military academy in Kabul.
The attack started at 4am on Monday when a suicide bomber attacked guards providing security to the academy and was followed by a gun battle with troops that last several hours.
It comes just two days after a Taliban suicide bombing in the Afghanistan capital that left more than 100 dead.
Saturday's attackers concealed explosives inside an ambulance and managed to get past a first checkpoint in Kabul by claiming that they was rushing a patient to hospital.
Monday morning's attack involved at least five insurgents, two of whom were killed in the shootout with troops, two detonated their suicide vests and one was arrested.
All roads leading to the military academy were blocked by police, which only allowed ambulances access to the site to transfer the wounded to hospitals.
Hours later the Islamic State group's affiliate in Afghanistan, known as Khorasan Province, posted its claim of responsibility on its media arm, saying its fighters targeted the "military academy in Kabul."