Prison scheme to let inmates run stray dog shelter
The new scheme is part of a project to help boost the prisoners' re-socialisation.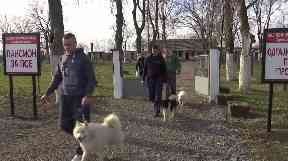 A scheme has been introduced in a prison for inmates to train abandoned dogs.
Prisoners are tasked with helping to run the dog shelter within the compound which includes cleaning the facilities through to teaching the animals simple commands.
The move is part of a project to boost the inmates' resocialisation and has so far seen more than 260 dogs cared for in Serbia's largest prison.
The jail in Sremska Mitrovica, northwest of Belgrade, has tasked a dozen prisoners with running the shelter since it opened in November.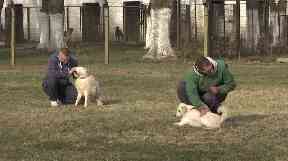 Prison authorities said the work helps the inmates to develop empathy through interaction with the animals and to provide them with new skills they can use later in life.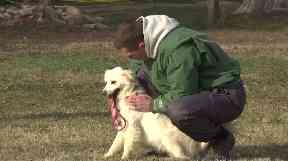 "Working with animals is great. I used to do that at home. I had lots of dogs and since I have been in here time passes much more quickly than before," said prisoner Radomir Djakovic.
The project is backed by the Organisation for Security and Cooperation in Europe which is aiding reform in the Balkan country as it seeks entry into the European Union following years of crisis in the 1990s'.
Still in early stages, the project currently only includes inmates serving terms for lesser offenses, who have had experience with dogs in the past.
Prison authorities said more serious offenders will join the project at a later date.