Trump says memo 'vindicates' him in Russia investigation
Intelligence memo alleges FBI abused powers to spy on US citizen working for Trump.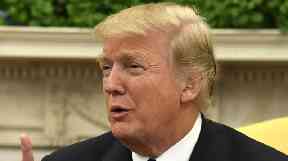 US President Donald Trump says he has been "totally" vindicated by a memo that alleges the FBI abused surveillance powers during the investigation into links between his presidential campaign and Russia.
The memo claims that a dossier compiled by former MI6 spy Christopher Steele on behalf of the Democrats, which identified links between Mr Trump's foreign policy advisor Carter Page and Russian officials, was motivated by financial and ideological interests which were not declared.
Mr Trump tweeted from Florida, where he is spending the weekend at his Mar-a-Lago resort, that the memo put him in the clear.
"This memo totally vindicates 'Trump' in probe," he said.
"But the Russian Witch Hunt goes on and on. Their (sic) was no Collusion and there was no Obstruction (the word now used because, after one year of looking endlessly and finding NOTHING, collusion is dead). This is an American disgrace!"
The memo, which came from the Republican party and Intelligence Select Committee chairman Devin Nunes, centres on the FBI's surveillance of Page during the 2016 presidential campaign.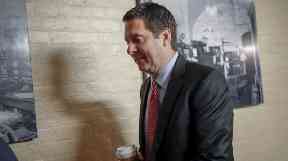 To monitor a US citizen, the FBI had to abide by rules outlined in the Foreign Intelligence Surveillance Act (FISA), and ensure the application for its surveillance warrant was signed off by senior judges.
The warrant was renewed a number of times by different judges, suggesting they were suitably convinced by the evidence gathered by the FBI that Page was acting as an agent of a foreign power and should be continued.
However, the memo alleges that neither the original application nor any of the renewals disclosed Steele's links to the Democrats or the Clinton campaign, which funded Steele's efforts to dig up dirt on Trump.
It also claims that what it labels as the "political origins" of the Steele dossier were known to officials at the Department of Justice and the FBI.
Yesterday Mr Trump used Twitter to accuse the FBI and Department of Justice of an "unthinkable" breach of process.
Meanwhile, Mr Nunes released a statement saying the memo had found "serious violations of the public trust", and said he hoped its release would "shine a light on this alarming series of events."
Democrats have dismissed the memo as a "profoundly misleading" Republican document which is designed to undermine special counsel Robert Mueller's investigation into how Russia may have interfered with the election.
Both the FBI and the Department of Justice appealed for the memo to be kept as classified, arguing that it contained significant inaccuracies.