Russian pilot shot dead after fighter jet downed in Syria
Russian defence ministry confirmed the downing of the fighter jet and said the pilot later died.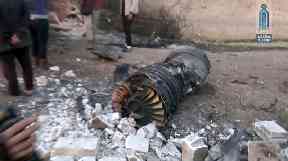 Al Qaida-linked militants in Syria have downed a Russian fighter jet and killed its pilot after he ejected from the plane.
The pilot, who landed on the ground in the embattled north-western province of Idlib, resisted being captured and fired at the militants who then shot and killed him, according to one of the militants and Syrian monitors.
The Russian defence ministry confirmed the downing of the Su-25 and said the pilot was killed in fighting with "terrorists".
A report on the ministry's Zvezda TV said preliminary information indicated the plane was shot by a portable ground-to-air missile in an area under the control of al Qaida's branch in Syria.
The Britain-based Syrian Observatory for Human Rights said the plane was downed on Saturday afternoon near the rebel-held town of Saraqeb, which Syrian troops have been trying to take under the cover of Russian air strikes.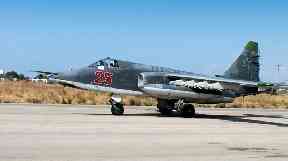 Russia is a key ally of President Bashar Assad, and has been waging a military campaign on behalf of his forces since 2015.
A Syrian militant in the area told The Associated Press that the Russian pilot was shot and killed when he resisted capture.
The pilot opened fire from his pistol as the militants were trying to seize him, the militant said.
Earlier in the day, the Observatory and the media arm of al Qaida-linked militants reported intense air strikes in Idlib. The Observatory reported more than 35 air strikes on Saraqeb since late Friday, adding that many of its residents are fleeing.