At least two dead after train crash in South Carolina
There are around 70 casualties after a passenger train collided with a freight train.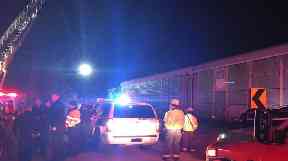 Two people have been killed and more than 50 injured after a passenger train collided with a freight train in the US state of South Carolina.
The Amtrak train collided with the freight vehicle in Pine Ridge, around 100 miles south of Carolina, at around 2.45 am on Sunday morning.
The Lexington Sheriff said the coroner had confirmed two deaths, and around 70 others had been taken to hospital.
A press conference was told it was not yet known if any of the injured were in a life-threatening condition, but the injuries included a range from minor scratches to broken bones.
Police said that all the passengers had been moved off the train, but urged people to avoid the area.
Amtrak has not yet made any comment.
The crash comes only a few weeks after another Amtrak passenger train derailed near Seattle in December, killing three people. Investigators said that speed was a factor in that accident.