North and South Korea's ice hockey team lose in debut
The joint team at this year's Winter Olympics drew thousands of spectators.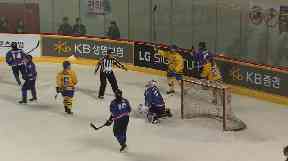 The joint North and South Korean ice hockey team lost 3-1 on their debut in a friendly with Sweden.
The most talked about team at this year's Winter Olympics drew thousands of enthusiastic spectators at the arena in Incheon, South Korea.
Before the match, the Korean players stood to the Korean traditional tune of "Arirang" instead of their respective national anthems.
The Korean team, who had only began practicing together for about a week ago, thrilled the 3,000 capacity crowd of the Seonhak International Ice Rink.
Fans waved miniature white-and-blue flags showing a unified Korean Peninsula and chanted "We are one".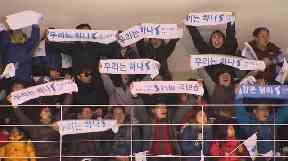 "I think that the North Korean players played really well this is one of the biggest crowds they played in front of," said Sarah Murray, the joint team's Canadian head coach.
"Being added 12 days ago and not getting to practice together all that much, they played our system pretty well, so I am proud of them."
The team's North Korean coach, Pak Chol Ho, said the Koreas "can do anything if they do things as one."
Last month North and South Korea agreed to march together under an unification flag at the opening ceremony of the Pyeongchang Winter Olympics, which begin on 9 February.