Hitler biography in home of Italy mass shooting suspect
Man held over 'racially-motivated' drive-by shooting leaving six hurt had copy of autobiography.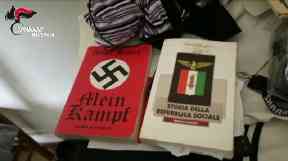 An extreme right-wing activist accused of carrying out a series of drive-by shooting targeting black migrants in Italy had a copy of Hitler's autobiography Mein Kampf, police have said.
The book was seized during a raid at the home of Luca Traini, who is being held for attempted murder aggravated by racial hatred over the attacks on Saturday that left six wounded in the city of Macerata.
Police also found other publications linked to Nazism and a flag with a Celtic cross a symbol commonly used by white supremacists.
Traini seemed "lucid and determined" and "aware of what he had done" after his arrest, a police source has told media.
Col.Michele Roberti, the Carabineri commander in Macerata, told news channel Sky TG24 the attack appeared to be "a sort of vendetta" after a Nigerian was arrested for the murder of a white teenage girl in the city.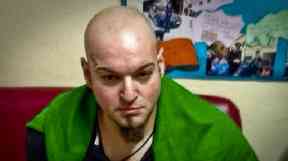 Police have said there was no direct connection with the murder victim and Traini, who was pictured in an arrest photo with a neo-Nazi tattoo on his face.
All six people - five men and one women - who were shot in the drive-by attacks were migrants originally from Africa, authorities have said.
One remains in intensive care and was said yesterday to be fighting for life, while four others remain in hospital in a stable condition and a sixth has been discharged.
One of the victims, a 29-year-old woman identified only as Jennifer, told the daily La Stampa that she no longer able to go out in public "with peace of mind" after the attack.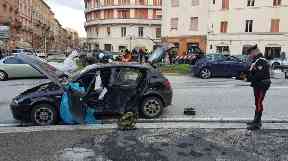 The attacks came amid a heated election campaign in which some parties have played on anti-foreigner sentiment kindles by Europe's migrant crisis.
Italy has struggled with the arrival of hundreds of thousands of migrants in the last few years coming across the Mediterranean Sea in smugglers' boats.
The far-right League party, under whose banner Traini previously unsuccessfully stood for local elections, has pledged to carry out mass deportations of 150,000 migrants within a year if elected.
However, the attacks have sparked a wave of revulsion against xenophobia and racism.
Italian Prime Minister Paolo Gentiloni has spoken out to say "hatred and violence will not succeed in dividing us" after the shootings.