Dow Jones hit by worst fall since 2008 financial crisis
Index has fallen more than 1150 points amid concerns over inflation and interest rates.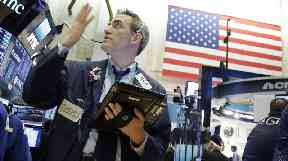 The Dow Jones industrial index has fallen more than 1,150 points, its largest single-day fall since the financial crisis of 2008.
The 4.6% fall erased the gains for the year, ending the day at 24,345.
While Monday's fall was the largest in terms of points, it had a larger percentage drop in 2011.
The slump began on Friday as investors worried that higher inflation and interest rates could derail the long-running rally.