SpaceX's Falcon Heavy launches Tesla Roadster into space
The Falcon Heavy rocket is the world's most powerful in use today.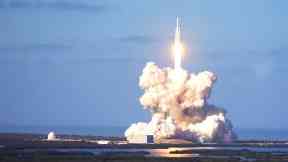 SpaceX's new rocket - the Falcon Heavy - made its long-awaited first test flight when it blasted off from Florida's Kennedy Space Center on Tuesday afternoon, with a red car strapped to its front.
After successfully lifting clear of its launch pad, it became the world's most powerful rocket in use today.
The launch was due to happen at 6.30pm GMT but was been delayed to 8.45pm due to high winds.
The Heavy is equipped with three boosters and 27 engines designed to provide about 5 million pounds of thrust.
Two of the boosters are recycled and programmed to return for another touchdown on land.
SpaceX chief Elon Musk has put his Tesla Roadster sports car on board - a cherry-red convertible that has a space-suited dummy at the wheel and David Bowie's Space Oddity on its stereo.
Usually there are things like steel or concrete slabs on test flights. SpaceX is targeting a long, oval orbit around the Sun for the car.
On the eve of the launch, Mr Musk said he is at peace with whatever happens, be it a successful test flight or an explosive failure.
"It's guaranteed to be exciting, one way or another," he said.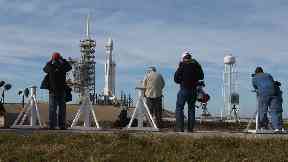 Mr Musk said he normally feels "super stressed out" the day before a launch, but "this time I don't, so that may be a bad sign".
The hope is that any failure comes far enough into the flight "so we at least learn as much as possible along the way".
Mr Musk has had plenty of experience with rocket accidents, from his original Falcon 1 test flights to his follow-up Falcon 9s, one of which exploded on a nearby pad during a 2016 ignition test.