Hotel caves in after Taiwan hit by strong earthquake
The US Geological Survey says the quake struck about 21 kilometers northeast of Hualien.
A strong earthquake that struck near the east coast of Taiwan has caved in the bottom floor of a hotel in the city of Hualien.
Taiwan's official Central News Agency reported that the ground floor of the Marshal Hotel, a building in Hualien district, had caved in and people were believed to be trapped inside.
At least two people have been killed and more than 200 injured in the earthquake, Taiwan's premier has said.
The US Geological Survey says the quake struck about 21 kilometers (13 miles) northeast of Hualien, on the island's east coast.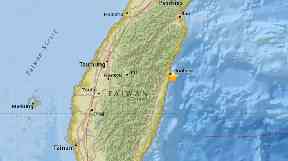 Taiwan's Apple Daily newspaper reported that five buildings had collapsed and rescue efforts were underway.
Other photos showed parts of roads and highways fractured.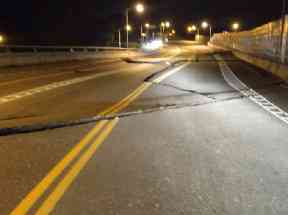 The preliminary information suggests the quake was about 9.5 kilometers (6 miles) deep.
The earthquake followed one over the weekend off the coast of Hualien, which lies along the famed "Pacific Rim of Fire" known for seismic activity from Alaska to Southeast Asia.
The quake came exactly two years after a quake struck southern Taiwan, causing the collapse of an apartment complex and the deaths of 115 people.
Five people involved in the construction of the complex were later found guilty of negligence and given prison sentences.