Rescuers search for survivors after Taiwan earthquake
Rescuers searching for survivors after the area was hit by a quake which has killed at least.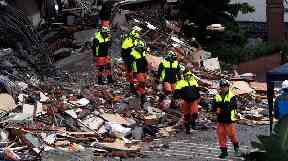 Rescuers are searching for survivors in Taiwan after the area was hit by an earthquake which has killed at least six people.
Eighty-eight people are still unaccounted for after a number of buildings were damaged by the 6.4 magnitude earthquake which struck on Tuesday night.
Officials say 256 people have been injured by the earthquake. There are fears not enough rescue teams are available to search the area quickly.
Many buildings in Hualien, which was worst hit by the quake, caved in and tilt dangerously.
Locals who have been made homeless by the quake will spend the nights in sports halls or in tents as many fear potential aftershocks.
Foundations were damaged by the quake, forcing rescuers to use ladders, ropes and cranes to get residents to safety.
Roads buckled under the strain caused by the tremors and water supplies to homes was also hit.
China's official Xinhua News Agency reported that the director of China's Taiwan Affairs office, Zhang Zhijun, said Beijing was "willing to send a rescue team to Taiwan" to help with relief efforts, adding that he was aware of a shortage of rescue workers in the disaster area.