Islamic State's final two 'Beatles' reportedly captured
The final two members of the all-British group have reportedly been caught.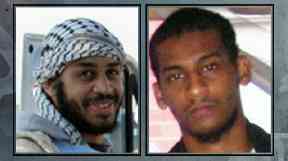 The final two members of so-called Islamic State's notorious all-British group suspected of imprisoning, torturing and murdering Western hostages have reportedly been captured.
Alexanda Kotey, 34, and El Shafee Elsheikh, 29, were detained by Syrian Kurdish fighters, according to US officials cited anonymously by the New York Times.
Details of the location and timing of the reported capture remain unclear.
A State Department spokesperson told ITV News: "Where appropriate, our interagency partners are working closely with our Coalition partner nations on the disposition of detainees in SDF detention.
"These diplomatic discussions are private and we have nothing additional to provide."
The pair are said to be one half of the infamous four-man extremist group dubbed 'The Beatles' for their British accents, alongside their ringleader Mohammed Emwazi - popularly known as "Jihadi John" - and Aine Davis.
All four had lived and grown up in west London.
The US State Department recently imposed sanctions on Fotey, who was revealed by ITV News to be a suspected part of "The Beatles" gang, describing him as a "specifically designated global terrorist".
Even within the brutal world of IS the all-British extremist group came to symbolise a particular and unimaginable kind of cruelty.
Emwazi, who appeared in horrific videos showing the beheading of British and American hostages, was killed in a British drone strike in 2015.
Davis is in custody in Turkey on terrorism charges.
Bethany Haines, whose father David Haines was beheaded by Emwazi in 2014, welcomed reports of the capture of Kotey and Elsheikh.
"It's brilliant that these evil people have been caught," she told ITV News.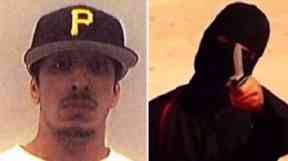 "The families will now have people to hold account for their loved ones' deaths.
"No punishment is enough for these barbarians and in my opinion they should be sentenced to a slow painful death.
"It's horrible to know that these people will never feel remorse for their crimes but hopefully some justice will be served."
Emwazi is also believed to have killed another British captive, Alan Henning, and the American journalists James Foley and Steven Sotloff, while the US government has attributed 27 beheadings to the group.