US government shuts down again as budget vote blocked
Senate passed a budget agreement and spending bill to reopen shuttered government.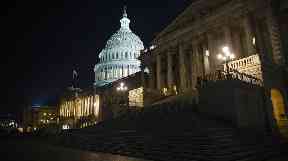 The US Senate has passed a bipartisan budget agreement and spending bill to reopen the shuttered federal government.
The earlier shutdown occurred after a rogue Senate Republican blocked a speedy vote on a massive, bipartisan, budget-busting spending deal.
Senators voted 71-28 to approve the deal, easily overcoming objections from Republican fiscal conservatives who say the bill marks a return to unchecked deficit spending.
Republican Senator Rand Paul repeatedly held up votes on the budget plan, which is married to a six-week government-wide spending measure.
It was the second government shutdown this year after January's three-day partial shutdown over spending and the "Dreamers" programme that protects some young immigrants from deportation.
Mr Paul was seeking a vote on reversing spending increases and refused to speed things up when he was denied.
"I ran for office because I was very critical of President Obama's trillion-dollar deficits," the Kentucky senator said.
"Now we have Republicans hand in hand with Democrats offering us trillion-dollar deficits. I can't in all honesty look the other way."
At the White House, there appeared to be little sense of concern. Aides closed shop early in the night, with no comment on the display on the Hill. The president did not tweet.
But frustrations were clear in both sides of the Capitol, where just hours earlier leaders had been optimistic that the budget deal was a sign they had left behind some of their chronic dysfunction.
Senate Democrats sparked a three-day partial government shutdown last month by filibustering a spending bill, seeking relief for "Dreamer" immigrants who've lived in the country illegally since they were children.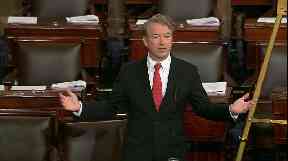 Mr Paul brushed off pleas from his fellow Republicans, who billed the budget plan as an "emergency" measure needed for a depleted military.
"We will effectively shut down the federal government for no good reason," said Senator John Cornyn, as his requests to move to a vote were repeatedly rejected by Mr Paul.
Mr Paul was unfazed, saying: "I didn't come up here to be part of somebody's club. I didn't come up here to be liked."