Winter Olympics opening ceremony highlights Korean unity
Pyeongchang Games opened with fireworks and a significant display of friendship.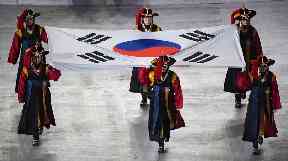 The opening ceremony to the 2018 Winter Olympics kicked off in South Korea with a round of sparkling fireworks, but the highlight of the show so far has been the displays of unity between the two Koreas.
In a historic meeting during the opening ceremony South Korean President Moon Jae-in turned to shake hands with Kim Yo Jong, the sister of North Korean leader Kim Jong Un.
Her presence in the freezing Olympics Stadium in Pyeongchang is significant - it is the first member of her family to visit South Korea since the 1950-53 Korean War.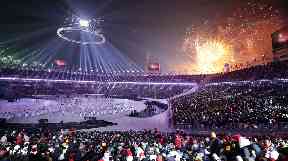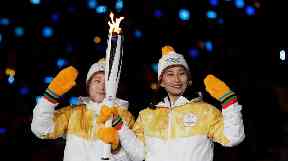 The Games began with a series of symbolism-heavy dance displays, augmented by light boxes that flashed different colours behind each of the seats in the stadium.
In front of the 30,000 strong crowd, four children hurried after a giant White Tiger, puppets and dancers filled the stage and a dazzling light display inscribed the yin and yang symbol on the ice.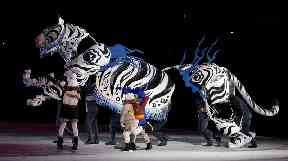 Former South Korean Olympians paraded the national flag into the stadium and the Rainbow Children's Choir sung the national anthem, Aegukga, as it was raised.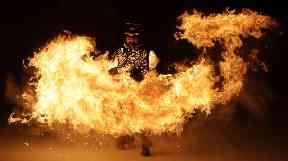 When then the parade of nations began it was led, as is traditional, by Greece.
Then in another display of unity, North and South Korea entered the Olympic stadium together.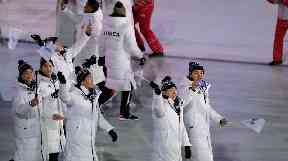 It is the first time the tow teams have marched together in 11 years.
The two countries have also formed a joint women's hockey team, which consists of 23 South Koreans and 12 North Koreans.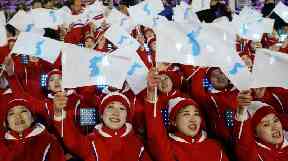 And at one point North Korean delegates held up flags of a united Korean peninsular, all indications of a shared purpose that could hardly be fathomed one month ago.
There was another surprise with the appearance of Tonga - the country's flag bearer Pita Taufatofua entered the stadium bare-chested, smiling unflinchingly despite the sub zero temperatures.
Although hailing from a tropical nation where snow is in short supply, he is to compete in the cross-country skiing event.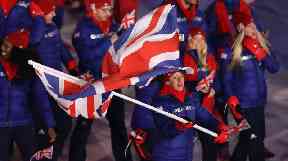 Gold medalist Lizzy Yarnold, who is to compete in the skeleton race, carried the flag for Britain.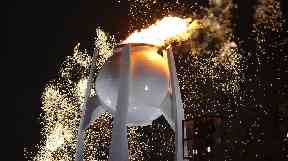 South Korean figure skating gold medalist Yuna Kim ignited the Olympic cauldron.
Also attending the ceremony was US Vice President Mike Pence.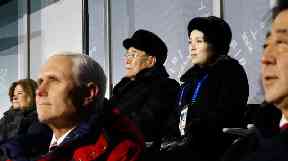 Although he was sitting near Mr Kim's sister, he did not interact with the North Korean delegation and stood only for the US team, despite others in the box standing and applauding athletes from the two Koreas, it was reported.