Chinese vase found dumped in attic sells for £14m
The antique was discovered by chance in a French family home and taken to a Sotheby's art expert.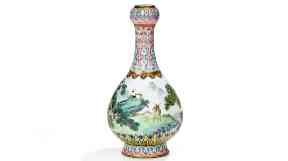 A vase that had been dumped in an attic has fetched €16.2 million (£14.3m) after it was revealed to be an 18th Century artefact from China.
The antique was discovered by chance in a French family home, before being taken to Sotheby's Paris auction house in a shoebox, where it was sold after a tense 25-minute bidding war.
It was revealed that the treasure was from Imperial China, though the exact history of the vase before 1947 has not yet been traced.
The vase broke auction records for any Chinese porcelain sold at auction in France, where the bidding reached 20 times the estimated guide price, which had been set between €500,000 and €700,000.
Sotheby's chairman of Asian Art, Europe and Americas, Henry Howard-Sneyd, said that now is the time to clear out your loft.
"Chinese art has been admired and collected across Europe for centuries, but the importance of certain pieces is occasionally lost over time," he said.
"Given the huge appetite for Chinese art among today's collectors, now is the moment to scour your homes and attics, and to come to us with anything you might find!"
The work of art features delicate details of a landscape with deer, cranes and pine trees - all of which symbolise health and longevity.
The Yangcai Famille-Rose vase was left to the grandparents of the present owners by an uncle.
It was produced to mark the reign of the Qianlong Emperor and is thought to be the only known example of its kind.
Sotheby's has not revealed the name or nationality of the art collector who bought the piece.