Four boys trapped in Thai cave rescued alive and well
The mission to bring the 12 boys out safely began early on Saturday morning.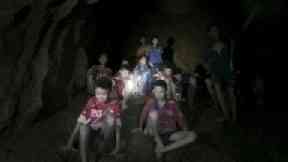 Four of the 12 boys trapped in the flooded Thai cave have been brought out alive and well.
It is unclear when the rescue will resume to bring out the remaining eight boys and their football coach.
The boys, aged 11-16, and their 25-year-old coach became stranded when they went exploring in the cave after a practice game June 23.
Monsoon flooding cut off their escape and prevented rescuers from finding them for almost 10 days.
Authorities had said that incoming monsoon rains that could send water levels in the cave rising, coupled with falling oxygen levels in the enclosed space, added to the urgency of getting those trapped out.
The mission to bring them out to safety began early on Saturday morning.
Chief of operations, Governor Narongsak Osottanakorn, said 13 foreign and five Thai divers were taking part in the rescue.
The British Cave Rescue Council (BCRC) confirmed that seven divers from the UK with "expertise in cave diving" are assisting.
Two elite British divers, Rick Stanton and John Volanthen, were the first rescuers to reach the group on Monday night and are believed to be part of the team.
Two divers will accompany each boy as they are gradually extracted, it will take at least 11 hours for the first person to be rescued, authorities have said.
The entire operation to get all 13 out of the cave could take two to four days, depending on weather and water conditions, said Thai army Major General Chalongchai Chaiyakam.