At least four people dead after shooting in Canada
Fredericton Police asked people to avoid the area of Brookside Drive due to an ongoing incident.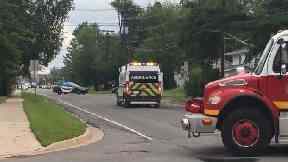 Police in eastern Canada say there have been "multiple fatalities" following a shooting in the city of Fredericton, New Brunswick.
Fredericton Police confirmed on Twitter that "at least four people killed" in the incident.
Residents have been told to "stay in their homes with doors locked" and the public have been asked to avoid the area of Brookside Drive due to the ongoing incident.
David MacCoubrey, who lives in Fredericton, said he awoke in his apartment on Brookside Drive around 7 am local time to the sound of three gunshots.
MacCoubrey said more than 15 other gunshots were subsequently fired between that time and around 8:30 a.m.
He says his apartment complex has four buildings in a square, and it sounded like the shots were coming from the middle of the complex.
MacCoubrey said police have been searching the complex and he's been sitting on the floor of his home away from windows.
More to follow..