Pediatric nurse discovers colleague was baby she cared for
Vilma Wong first met Brandon Seminatore in California nearly 30 years ago.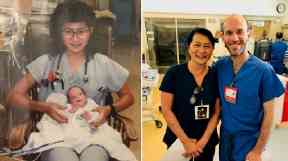 A nurse in California was stunned to discover her newest colleague was in fact a baby she had cared for 28 years earlier.
Vilma Wong first met Brandon Seminatore at the Lucile Packard Children's Hospital Stanford at just 29-weeks old.
He was cared for in the neonatal intensive care unit (NICU) for more than a month before his parents were able to take him home to San Jose.
Brandon, 28, is currently a second-year pediatric neurology resident at the Packard Children's hospital.
The 52-year old recalled the moment during Brandon's morning rounds on the NICU earlier this month. She thought his name sounded familiar but could not figure out how she knew him and began to ask a few questions.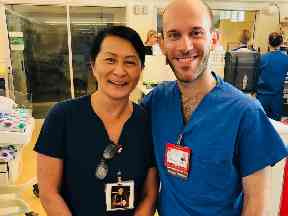 She said: "Brandon was on my team and taking care of one of my patients.
"I asked who he was and his last name sounded very familiar.
"I kept asking questions, like where he was from and he told me he was from San Jose, and that as a matter of fact, he was a premature baby born at our hospital."
Vilma continued: "I then got very suspicious because I remember being the primary nurse to a baby with the same last name.
"To confirm my suspicion, I asked him if his dad was a police officer. And there was a big silence.
"Then he asked me if I was Vilma. I said yes!"
Brandon, who is specialising in child neurology, has since shared an old photograph of Vilma holding him on her lap when he was a precious preemie.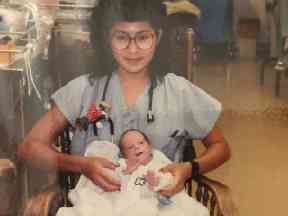 "I was in shock initially, but overjoyed to know that I took care of him almost 30 years ago and now he's a pediatric resident to the same population he was part of when he was born," Vilma said.
The heart-warming reunion made him appreciate the healthy lives they both have as a result of the hospital's care.
The 28-year-old found Vilma inspiring as "meeting Vilma showed me the dedication and love she has for her career," he said.
He added: "She cares deeply for her patients, to the point that she was able to remember a patient's name almost three decades later.
"Not all of us will get the chance to see our patients grow up, and I was so happy to be able to share that moment with her."
"This story is for families with children who have had a rough start in life. I want to give them hope."
The hospital's Facebook post about the heart-warming reunion has since been shared tens of thousands of times.
Download: The STV News app is Scotland's favourite and is available for iPhone from the App store and for Android from Google Play. Download it today and continue to enjoy STV News wherever you are.