Tropical storm brings hurricane watch to US Gulf Coast
The storm is expected to reach coastal Mississippi and Louisiana by late Tuesday.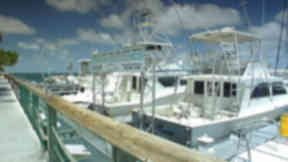 Tropical Storm Gordon has lashed southern Florida with heavy rains and high winds, forcing beach goers to drier ground.
Weather forecasters said the storm could strengthen to near-hurricane force by the time it hits the central US Gulf Coast.
Gordon formed into a tropical storm near the Florida Keys early on Monday as it moved west-north-west at 16mph.
The storm is expected to reach coastal Mississippi and Louisiana by late Tuesday and move inland over the lower Mississippi Valley on Wednesday.
The National Hurricane Centre in Miami said the storm was west-south-west of Marco Island, and maximum sustained winds were clocked at 50mph.
Miami Beach Police the Labour Day holiday was "not a beach day", with rough surf and potential rip currents.
Red flags flew over Pensacola-area beaches in Florida's Panhandle, where swimming and wading in the Gulf of Mexico was prohibited.
More than 4,000 Florida Power & Light customers lost power due to weather conditions.
The National Weather Service said conditions were "somewhat favourable" for tornadoes in affected parts of south Florida.
The storm left many businesses on Florida's Gulf Coast feeling shortchanged by the holiday weekend.
The area has already been heavily impacted by this summer's so-called "red tide" - massive algae blooms that have caused waves of dead marine life to wash up along the coast.
A hurricane watch - meaning hurricane conditions are possible - was put into effect for the area stretching from the mouth of the Pearl River in Mississippi to the Alabama-Florida border.
The Miami-based centre said the storm is also expected to bring "life-threatening" storm surges to portions of the central Gulf Coast.
A storm surge warning has been issued for the area stretching from Shell Beach, Louisiana, to the Mississippi-Alabama border. The warning means there is danger of life-threatening inundation. The region could see rising waters of 3ft to 5ft.