Storm Gordon makes landfall near Alabama-Mississippi border
Forecasters warned the storm could become a hurricane by the time it makes landfall.
Thousands of people were without power as Tropical Storm Gordon made landfall just west of the Alabama-Mississippi border.
The National Hurricane Centre said Gordon struck about 10pm local time and the storm is forecast to quickly weaken as it moves inland across Mississippi, Louisiana and into Arkansas through Thursday. It did not reach hurricane status.
Gordon strengthened as it neared the central Gulf Coast, clocking top sustained winds of 70 mph.
The National Hurricane Centre said Gordon's tight core was about 30 miles south-east of Biloxi, Mississippi, or about 35 miles south of Mobile, Alabama, where heavy rains and winds picked up shortly before nightfall.
More than 27,000 customers are without power Tuesday night as Tropical Storm Gordon began pushing ashore.
Those outages are mostly in coastal Alabama and include the western tip of the Florida Panhandle around Pensacola, with a few hundred in southeastern Mississippi.
The number of outages has been rising rapidly as Tropical Storm Gordon's wind and rain began to take a toll on the Gulf Coast's power grid.
Pensacola International Airport has reported more than 4in of rain, the heaviest total reported so far along the Gulf Coast.
Skies quickly turned dark grey as storms overshadowed Mobile, a port city.
Metal chairs were lashed together atop tables outside a restaurant in what is normally a busy entertainment district.
Families along the coast filled sandbags, took patio furniture inside and stocked up on batteries and bottled water ahead of Gordon.
John and Robin Berry, on holiday on Dauphin Island, Alabama, went to the beach to see the roaring surf before the rain began.
Accompanied by their dog Bentley, the couple had to evacuate the beachfront home they had rented for the week because of Gordon, but they did not go very far.
"There are no dunes and there's no protection, so the realty company we rented from moved us across the street and down so that we would be safe," said Robin Berry.
Visiting from Nashville, Tennessee, the couple planned to stay on the island despite the storm.
Katrina cut the narrow island in half more than a decade ago, but John Berry was not very worried about Gordon.
"It's awesome. It's so beautiful," he said of the pounding waves.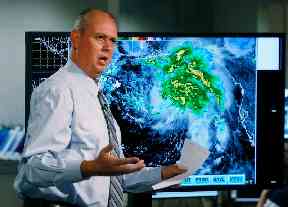 Flooding also was a risk. As much as 8in of rain could fall in some parts of the Gulf states through late Thursday as the tropical weather moves inland toward Arkansas.
The last hurricane to strike the US was Nate last October, coming ashore in Biloxi with 75 mph winds.
Governors in Alabama, Mississippi and Louisiana all declared states of emergency to better mobilise state resources and National Guard troops for the storm.
Mississippi shut down a dozen Gulf Coast casinos. Workers on at least 54 oil and gas production platforms were evacuated.
Gordon became a tropical storm on Monday near the Florida Keys.
Mayors of barrier islands in the storm's path warned that their communities might get cut off from the mainland.
"When you get the higher waves, water starts splashing across. Sometimes it starts pushing not only water across but debris, logs and things of that nature, which makes it very treacherous to get across," said Jeff Collier, mayor of Dauphin Island, Alabama.
Gordon was poised for only a glancing blow to New Orleans, where Mayor LaToya Cantrell said the city has "the pumps and the power" needed to protect residents.
Authorities issued a voluntary evacuation order for areas outside the city's levee protection system.