Florence bans 'boorish tourists' from eating in the streets
The new ordinance, calling for fines of up to £450, applies during midday and evening meal times.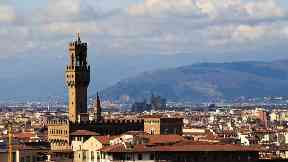 The tourist office of Florence is cracking down on visitors who eat on pavements, doorsteps or driveways during lunch or dinner time.
Mayor Dario Nardella has said a new ordinance, calling for fines up to 500 euro (£450), aims to combat "boorish tourists".
The ruling, which went into effect this week, applies to certain streets in the Renaissance city including near the Uffizi Galleries.
It only applies from 12pm to 3pm and 6pm to 10pm until January 6, 2019 - the end of the Italian holiday season.
Tourists often eat in the street to avoid paying to dine at cafes.
Last year, after a man swam naked in Rome's Trevi Fountain.
The city then began fining people bathing in monumental fountains or eating on them.