Tropical Storm Florence likely to be 'major hurricane'
The storm is expected to approach the south east US coast on Thursday.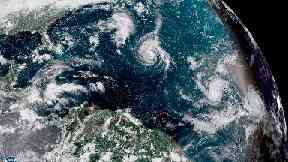 Tropical Storm Florence is becoming a "better organised" weather system that is likely to strengthen into a hurricane late Saturday, weather forecasters said.
The National Hurricane Center said the storm was expected to become a "major hurricane" by Tuesday as it passes between Bermuda and the Bahamas on Tuesday and Wednesday.
The storm is expected to approach the southeast US coast on Thursday.
Officials in North Carolina were already preparing for impact.
Governor Roy Cooper declared a state of emergency on Friday evening, urging residents to use the weekend to prepare for the possibility of a natural disaster.
"We are entering the peak of hurricane season and we know well the unpredictability and power of these storms," Mr Cooper said.
In South Carolina, governor Henry McMaster declared a state of emergency on Saturday to give his state time to prepare for the possible arrival of a hurricane.
Swells generated by Florence could cause dangerous rip currents and coastal flooding Saturday in areas including coastal Delaware and New Jersey, the National Weather Service said.
At 11am EDT, the Miami-based hurricane centre said Florence's maximum sustained winds were estimated to be 65 mph (100 kph).
The storm was centred about 835 miles (1340 kilometres) southeast of Bermuda and moving west at 7 mph (11 kph).