Dialysis patient who has suffered 14 heart attacks 'fit enough to work'
Paul Mickleburgh told to look for work, despite requiring dialysis to stay alive.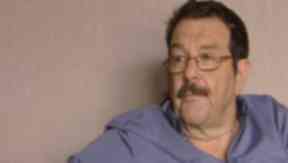 A man who has suffered 14 heart attacks and four failed kidney transplants has been told he is fit enough to look for a job.
Paul Mickleburgh, 53, from Aberdeen, who has also fought cancer and pneumonia, will spend the rest of his life on dialysis, which he receives three days a week.
He was told by the Department of Work and Pensions that he is expected to take part in work groups and attend interviews in a bid to get a new job or he will face losing the new Employment and Support Allowance to be paid instead of incapacity benefit.
A letter from the DWP said: "You must take part in work-focused interviews with a personal adviser to continue to receive the allowance in full."
Mr Mickleburgh said: "Why would you apply for a job that you are not going to be able to do? It seems to be petty that they are going to make you apply for jobs but don't expect you to take the job, even if you are offered it.
"It's not right. You apply for a job to go and work, you don't apply for a job to then turn it down.
"I would like to work and I would love to have a new transplant and a fit heart. Nobody wants to be ill like this. I worried so much about this I didn't sleep for five or six days. I had my last heart attack a few weeks ago and I think it was brought on by the stress this has caused."
Mr Mickleburgh added: "A person's medical condition should be taken into account. I wouldn't be able to do an eight hour job five days a week. There's no realistic prospect of an employer taking on somebody with my medical condition.
"I don't think they realistically want me to find a job, they just want to get me onto the work activity list for statistics. Most reasonable people will think I'm genuinely unwell.
"The new rules were meant to get people who allegedly had 'sore backs' back into work - rather than people who were on kidney machines or had heart problems. There doesn't seem to be a fair assessment being made."
The DWP refused to comment on Mr Mickleburgh's case but said: "The assessment doesn't focus on a particular diagnosis but on an individual's abilities and whether that person could undertake suitable work."