Knitters rally to help Malawi's 'fish and chip' babies
Thousands of jumpers and hats have been made for babies in the African country.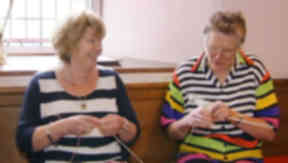 Warm-hearted Scots have knitted thousands of tiny woolly jumpers to bring some comfort to the lives of newborn Aids victims in Malawi.
The initiative was a response to the revelation that so-called "fish and chip babies'' were despatched from hospitals wrapped in newspaper because of a shortage of blankets in the poverty stricken African country.
Keen knitters across the north of Scotland have created a container load of brightly coloured jumpers and hats for the cause in the space of just a few months.
The project was the brainchild by Aberdeenshire churchwoman Arma Iles. She said: "My friend from York sent me the knitting pattern. She said this would keep me busy during the dark hours of winter and I thought it was a good idea.
"I knitted two jumpers and then had the pattern copied and handed them to out to the congregation at my church, St James in Stonehaven.
"Some of the other churches in Stonehaven began to help and in no time at all I had 500 jumpers in my spare room which I posted down to my friend in York."
However the appeal was later promoted on a supermarket's community noticeboard and almost 8000 items have since rolled in.
Ms Iles added: "It really snowballed when the pattern was put in Sainsburys. I heard about a group that was knitting in Ellon and another woman who was knitting in Oban. The Far and Wide shop in Stonehaven got involved for which I am truly thankful as it was quite expensive to send the jumpers down to York.
"The response has been phenomenal. These mothers in Africa who were suffering from Aids were so impoverished that their babies were being sent home from hospital in newspapers. That's why they were called 'fish and chip babies' and I think the thought of these tiny babies leaving hospital wrapped in nothing but newspaper is why the project has struck a chord with so many people."