Lossiemouth's £24m facility proving a massive all-round hit
Modern messing facilities for a modern air force now in place.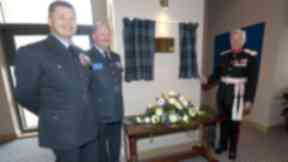 A new facility at RAF Lossiemouth is proving highly popular with servicemen and visiting civilian workers alike.
Opened recently by the base station commander and the Lord Lieutenant of Moray, the new £24million combined mess boasts state-of-the-art accommodation for Senior non-commissioned officers alongside restaurants, snack bars and social facilities for all ranks and their families.
Group Captain Ian Gale joined Grenville Johnston in unveiling the facility last week after a tour of the leisure facilities that includes a new Spar store, Costa Coffee shop and the vital if not always popular ingredient on every RAF base – a barbers.
Heavily involved with the project that brought the facility to the Moray base has been Warrant Officer Al Milligan, who is OC Catering at Lossiemouth. He said: "The facilities we now have here at RAF Lossiemouth are second to none and everyone I have talked to is really impressed with the new living accommodation."
Funding for the building was raised through a private partnership that will see a portion of profits from the facility being re-invested in other areas of the base. In the first few weeks since the mess opened it has already proved a massive hit with personnel, the coffee bar in particular proving a popular addition.
Warrant Officer Milligan added: "It's nice to see so many people getting a lot out of it already - we regularly get the guys bringing their families in for a bar meal in the evenings.
"The Costa Coffee is also proving to be very popular with some of the mums when they finish the 'mums and toddlers' groups on camp."