Politicians turn down surprise invitation to tour Trump golf course
Critics of the golf course and resort invited to visit the facility ahead of its official opening.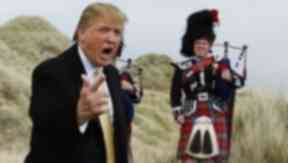 An MSP and two Aberdeenshire councillors who have campaigned against Donald Trump's golf development at the Menie Estate have turned down a surprise invitation to tour the course.
Patrick Harvie, Green MSP for Glasgow, along with councillors Martin Ford and Paul Johnston were invited by Trump vice president George Sorial to tour the multi-million pound golf resort next week ahead of its official opening next month.
Mr Trump has halted work on the development until a decision is reached over a nearby wind farm. However, the golf course will open in July with a recruitment fair held last month to find applicants for the 150 full and part time jobs that will be created.
Mr Harvie said: "I will try to find the time later this summer to visit the site with local residents and see the full scale of the Trump Organisation's destruction of this important natural asset. Sadly on the dates in question I will be working in parliament and visiting constituents in Glasgow."
Scottish Green Party Councillor Martin Ford said: "The Menie dune system was an amazing and beautiful natural habitat before it was targeted for development.
"I have seen the damage inflicted on the site of special scientific interest when visiting local residents. This was officially sanctioned vandalism of an important nature conservation area on a horrendous scale."
Independent Councillor Paul Johnston added: "The last time I spoke to George Sorial he threatened me. He has now invited me to meet him at a lonely spot on the Aberdeenshire coast. I'm not going."
Trump International spokesman George Sorial responded to the comments by accusing the Green Party of "hypocrisy".
He said: "We have actually invited each of them to TIGLS several times over the years and the door remains open - the quality of what we built in Aberdeenshire speaks for itself.
"Once again, this small minded group is more interested in a meaningless headline than actually learning the facts - they just can't seem to admit that they were wrong. They also continue to distort the truth without having even seen the site or studied the glowing reports prepared by the Ecological Clerk of Works and MEMAG.
"Trump International is being applauded by the global golf community for creating a masterpiece that has enhanced existing environmental assets while the Green Party continues to promote the destruction of Scotland's coastlines and countryside with steel and concrete turbines - it's the ultimate hypocrisy. We look forward to opening next month."
Meanwhile, Mr Trump and ice cream tycoon Maitland Mackie have set out their opposing views on wind turbines in the National Trust for Scotland magazine.
Mr Trump has claimed that wind farms could threaten Scottish tourism, while Mr Mackie has pledged his support to renewable energy.