Dying cancer-stricken girl stranded in Mexico could be on her way home
More than £130,000 has been raised to pay for Olivia Downie's medical bills and a specialist flight.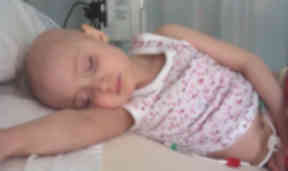 A cancer-stricken girl who is dying stranded in Mexico could be on her way home.
Olivia Downie, from Fraserburgh, was diagnosed with stage four Neuroblastoma three years ago - an aggressive form of childhood cancer that attacks the nervous system and can affect the lungs, skin and brain.
The seven-year-old's family raised thousands of pounds in order to fly out to Mexico for "last ditch" treatment in a bid to save the youngster. That treatment has now failed and her family wish to get Olivia back to Scotland before she dies.
Following her first cycle of treatment, Olivia took a turn for the worse and doctors have refused to let her fly back to Scotland without specialist medical support.
The attempt to bring her home received another setback when NatWest bank, where the charity organising the trip has its account, was hit by a serious technical glitch at the end of last week.
Families Against Neuroblastoma said the seven-year-old may be able to start her journey home on Saturday after more than £130,000 was received in donations following an emotional appeal from her family.
A spokeswoman for the charity said: "Olivia will be coming home as soon as we can get her ready for the plane. The update from Mexico is looking better, we may be ready to do this later today.
"Olivia has opened her eyes on her own so we are hoping she won't need the life support machine soon. We have now received an estimate cost so far from the hospital, which amounts to $95,000.
"Medical bills are still mounting, so donations are still welcome, but Olivia will be coming home as soon as possible."
The charity said the level of donations was "fantastic".
The spokeswoman added: "Donations are flooding in like we've never seen before. We are so grateful to everyone who has helped so far and continues to help. Private donations pledged are yet to be verified due to the untimely crash of NatWest bank, our bank, so we cannot give you any more up to date information than what you will see on her just giving page."
Prior to the family's appeal the fundraising total stood at just over £14,000.
Olivia's mother Lauren said: "It just shows how kind folk can be and how Olivia has opened people's eyes to the seriousness of the situation and how caring and supportive the community has been. I don't expect any numbers to rise and I'm really shocked at that amount.
"It helps us to know there are people at home waiting for us and they want us to come home and they are showing a lot of human compassion for Olivia."
Speaking on Wednesday night, her father Stephen Downie said: "We're just devastated. We came with so much hope, this was kind of the last throw of the dice for us but we came with hope because we know a family this treatment has worked for and then this happened, which was nothing to do with the treatment I don't believe, it was just one of these things I think.
"[To get her home] it would mean the whole world, it would mean everything."
To help Olivia go to her JustGiving page.